Tackling 'Group-Hate': Design and Delivery of Authentic and Collaborative Learning for GAMA3004 Group Game Development module
By Jacqui Edwards, Senior Lecturer & Course Leader for Game Art; School of the Arts.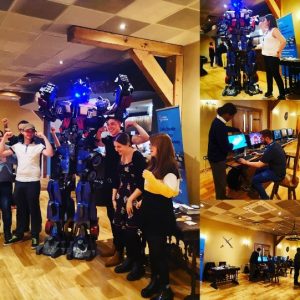 'Great Things' Event, June 2019.
This case study reflects on the design and delivery of a year-long level 6 module, for BA Hons Game Art, with a focus on embedding authentic learning and an innovative group work experience involving live briefs and collaborative, interdisciplinary practice (A1).
In game development teamwork is essential, however, it is commonly an area that students find problematic. Indeed, the negative reactions to group work even has its own term, "Group-Hate" (Sorenson, 1981 cited in Burke, 2011). In designing the module, I set out to overcome issues with group work that students had previously experienced and to engage them via high impact learning (Kuh, 2008). Acknowledging and reflecting upon past experience was essential, as well as reassuring learners through a carefully designed summative assessment pattern. Written work (unusually for art students) formed 50% of the grade, incorporating a mandatory peer assessed report appended to a larger reflective journal. This signposted that it was a 'safe' group work, with individual assessment based on group experience.
The games industry requires graduates who are not only highly skilled and creative but work effectively with others and understand reciprocal relationships between code, art and design. Collaboration with the pre-existing BSc Computer Game Design and Development course seemed an obvious step but the key was to make this mirror industry practice. Students taking COMP3351 Advanced Game Design and Engineering had a live brief to develop games for the Infirmary Museum, however their games had previously been restricted by a lack of artwork. This seemed a perfect opportunity for authentic collaboration (A1). Students had a year-long cycle that built an appreciation of industry workflows, with game artists acting as an outsource studio to the coders, and the Infirmary Museum as their client (A4; K3). It also allowed students to experience problem- based learning, overcoming challenges such as lack of client feedback which gave them confidence in their group-working abilities (A4; K2).
The impact was evident when marking students' reflective journals, with many evidencing that deep learning had taken place. One student commented that she did not realise she had taken on the leadership role in her team until she received positive feedback in the formal peer assessment. The use of written reflection on her experience was transformative, with the student realising she now had the confidence to take on this role in future employment (K3; A4). The pass rate was 93.3% overall, with a third of students achieving A grades. Module evaluation provided strong evidence that the intended aims of the module design had been successful.
The most encouraging aspect of this student experience is that teams have continued to work together. One team formed a start-up studio and demonstrated work at the 'Great Things' event in June 2019 (Worcestershire Innovation Network). This proves that cross disciplinary collaboration in this module has been innovative in allowing both sets of students to work independently on their respective module learning outcomes, whilst benefiting beyond the module through a supported learning experience that allowed problem solving and soft skills to develop and, confidence in those skills to be recognised by individual learners (A4).
The impact of embedding an authentic and collaborative approach to group work has further influenced the team's approach to L5 group work. I am also exploring ways to support our graduate game developers, which I hope will inspire current students to do the same in future and may impact on further programme development.
References
Burke, A. (2011) Group Work: How to Use Groups Effectively. The Journal of Effective Teaching, Vol. 11, No. 2, 2011, 87-95.
Hassanien, A. (2006) Student Experience of Group Work and Group
Assessment in Higher Education, Journal of Teaching in Travel and Tourism, 6:1, 17-39.
Kuh, G (2008) High-Impact Educational Practices: What They Are, Who Has Access to Them, and Why They Matter, Washington, DC: AACandU.
Lowthorpe, C. (2019) Loops Not Lines. Games Education Summit, Sheffield.
Rule, A. (2006). Editorial: The Components of Authentic Learning. Journal of Authentic Learning.