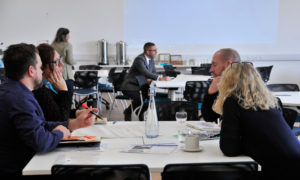 Learning and Teaching Conferences 
(Organised by conference date)
February 2023
2023 European Learning & Teaching Forum (European University Association)
2-3 February 2023
University of Deusto, Bilbao, Spain
The event, entitled "Connecting people, spaces and realities", will be hosted by the University of Deusto in Bilbao, Spain, on 2-3 February 2023. High-quality learning environments depend on well-functioning communication and a community of practice connecting learners, teachers, and other staff, but also on their capacity to relate to partner universities as well as local or regional stakeholders. These diverse inner- and inter-institutional connections are critical for initiating and sustaining innovation in learning and teaching, be it in view of developing transformative practices or promoting the wellbeing of members of a higher education institution. Yet, what can higher education institutions do to foster meaningful connections and collaboration within and across institutions, and with society, with a view to supporting successful learning and teaching? The 2023 European Learning & Teaching Forum seeks to explore these questions, while considering the enhanced range of opportunities that blended, flexible and collaborative learning and teaching practices offer, as well as how they relate to student and staff wellbeing.
Leading on inclusive teaching and learning workshops (Advance HE)
9 and 23 February 2023
Virtual
This two-part workshop supports staff who are leading others in change efforts around inclusive teaching and learning. Participants will explore issues such as different approaches to change; inclusive leadership; positionality and power; working with different stakeholders and disciplines; evaluation, and accountability. Participants will also have the opportunity to analyse and explore their own 'live' issues.
Gender in Higher Education Conference 2023 (Advance HE)
22 February 2023
Bristol Holland House (Mercure Hotel), Bristol
While gender has been on the agenda in HE for many years, the nature and focus of the conversation is expanding. Long-standing issues such as the under-representation of women in STEM subjects and in senior leadership, sexual harassment, and the need to support pregnancy, maternity and caring responsibilities continue to require attention. And they are joined by newer areas of enquiry including considerations about gender and inclusion, intersectionality, connections and tensions between sex-based and gender-inclusive rights, and the place of gender in learning and teaching, and in models of leadership.
International higher education forum 2023 (UUK)
28 February-1 March 2023
Virtual
The International Higher Education Forum is one of the largest annual events organised by Universities UK and Universities UK International. Now in its 11th year, the International higher education forum (IHEF) will return in 2023 to discuss some of the most pressing challenges in higher education. IHEF 2023 is a strategic forum designed for attendees to share best practice with senior leaders from across the world, bringing together hundreds of higher education professionals year on year.
March 2023
Equality, Diversity and Inclusion Conference 2023: The Shoulders of Giants: Listening, Learning and Improving our Practice (Advance HE)
15-16 March 2023
The DoubleTree by Hilton, Lincoln
The conference will run across two days (optional evening dinner and entertainment on the evening of 15 March) and focus on ensuring that approaches to EDI work for all and addressing current and future challenges and opportunities. Through forecasting emerging EDI topics and priorities in the sector, it will create space for reflection and capacity building. This conference will offer an opportunity to think deeply and creatively about what it means to be an inclusive institution, to explore models of inclusion that challenge traditional concepts of leadership and agency, and to share innovative practice around collaboration, co-ownership, allyship and solidarity.
16th Annual University of Glasgow Learning & Teaching Conference
29 March (virtual) and 13 April (on campus)
University of Glasgow
Conference Theme: Access to Opportunity – This theme will allow us to showcase and celebrate the many opportunities that are open to students at UofG and across HE to develop transferable skills and graduate attributes. The sub-themes are designed to expand on the overall conference theme and to help us to further embed the pillars of the current Learning and Teaching Strategy in our teaching and assessment practices, and to showcase how practitioners are achieving this. Subthemes: workplace learning, widening participation, working in partnership with Further Education, working in partnership with industry, graduate attributes, skills development
Sustainability Symposium 2023: Top-down or bottom-up? How do we ensure all our graduates become sustainable citizens? (Advance HE)
29-30 March 2023
Virtual
Submissions due 17:00 on 19 January 2023
Sustainable citizens, people who can apply their knowledge and skills to global sustainability challenges, are increasingly in demand. Employers, professional bodies, students and the public recognise the need for everyone to have greater understanding of our impact on the planet and the skills to alleviate it. In the Education for Sustainable Development (ESD) Guidance, published by the QAA and Advance HE in 2021, learning outcomes and teaching and assessment practices were framed around the UNESCO key competencies for sustainability. This means asking what students should be able to know, do, and be in order to 'leave the world better than they found it'.
April 2023
16th Annual University of Glasgow Learning & Teaching Conference
29 March (virtual) and 13 April (on campus)
University of Glasgow
Conference Theme: Access to Opportunity – This theme will allow us to showcase and celebrate the many opportunities that are open to students at UofG and across HE to develop transferable skills and graduate attributes. The sub-themes are designed to expand on the overall conference theme and to help us to further embed the pillars of the current Learning and Teaching Strategy in our teaching and assessment practices, and to showcase how practitioners are achieving this. Subthemes: workplace learning, widening participation, working in partnership with Further Education, working in partnership with industry, graduate attributes, skills development.
Inclusive and equitable assessment and feedback (Advance HE)
18 April and 2 May 2023
Virtual
Institutions and individual practitioners face new and ongoing challenges in providing effective, rigorous, and inclusive assessment and feedback to learners. This two-part workshop will introduce the latest literature, practitioner learning, and sector insights to support participants develop their reflective and innovative practice. 'Feedback' and 'assessment' will be examined both as distinct areas of challenge and development, and as related elements of student learning. Participants will also have the opportunity to critically apply their learning to a 'live' assignment or practice used in their institution.
Student Engagement Conference 2023 (Advance HE)
20 April 2023
Manchester Metropolitan University
Call for workshops due midday 20 January 2023
Student engagement has never been more important or more challenging. This conference will provide an opportunity for the sector to come together to review where we've been and to consider where next. It will focus on the engagement of students in all aspects of their higher education, from the 'classroom' to extra-curricular activities including leadership and governance; asking what does it mean to lead student engagement, and how can we continue to improve our vision of student engagement? The conference will consider leadership of student engagement through a 360 degree lens including the role of all staff, the Student Union, and the community as well as considering how we ensure inclusive engagement and remove all inequalities. This conference will be of interest to those with responsibility for the student academic experience and student engagement more widely, SU teams wishing to widen their student engagement, course leaders seeking to have a more engaged cohort and others focused on the student experience and improving student outcomes.
7th Interdisciplinary Learning and Teaching Conference (Anglia Ruskin University)
20 April 2023
Anglia Ruskin University
Papers due 21 December 2022
This year's conference theme, 'Interdisciplinary Experiences: Transforming Perspectives', will focus on the opportunities afforded by interdisciplinary learning and teaching to transform the vision and frames of reference that students bring to the classroom. The conference also asks how we can empower students to use their experiences of interdisciplinary study to make a difference. This transformation might be in their own learning journey or within a wider community. The conference theme is close to our hearts at ARU; our education is underpinned by our mission, 'Transforming lives through innovative, inclusive and entrepreneurial education and research'.
2023 EUA Annual Conference (European University Association)
20-21 April 2023
Gdańsk University of Technology
Universities have a profound impact on individuals and societies, as well as the policies that govern both. But what do we really mean when we talk about impact? The conference will tackle this heterogeneous concept by looking into how universities impact different communities and shape critical public policies at a time of great change and, in many cases, crisis. Through a mix of traditional and interactive sessions, participants will explore the various facets of universities' impact. This event will shine a light on issues as diverse as rankings, excellence and the quest for quality, universities' contributions to greening and sustainability, their pivotal role in innovation and their proven track record in supporting endangered scholars and higher education systems. Finally, it will investigate the role of university leadership in delivering on these various forms of impact. Discussions will go beyond narrow definitions of economic impact, rather viewing impact as a measure of a university's responsibility to its own community and the world that surrounds it.
Employability Symposium 2023: Lighting the Labyrinth: Enhancing Student Success through the 3Es (Advance HE)
25 April 2023
The Studio, Manchester
Submissions due 17:00 on 3 February 2023
We know that, regardless of discipline, developing graduates for successful trajectories beyond university is of critical importance. Enabling our graduates to have a positive impact, whether that be through creating value that is economic, social, cultural, or environmental – or indeed a mixture of each, is the embodiment of this success. The event, by way of oral presentations, workshops and posters, will provide a space to discuss and share latest practices in embedding employability among a network of peers. The symposium will focus on employability initiatives that are inclusive and provide equitable opportunities and will address the following themes within higher education:
Enterprise Education
Sustainability
Authentic Assessment
Work Integrated Learning
The 3Es from a careers perspective
Inter/Multi-disciplinary approaches
Spotlight on Digital Capabilities 2023: Blended learning – are we getting it right? (UCISA)
26 April 2023
The Queens Hotel Leeds
Submissions due 27 January 2023
Blended learning is now embedded in many institutions and reflects the desired student experience for increased flexibility and choice. The recent OfS Blended Learning Review made 23 recommendations to support a high-quality blended learning experience. At this event we will explore how universities and colleges are responding to support academics, professional staff and student's digital skills and capabilities to maintain and improve quality within a blended learning model.
May 2023
Equality Diversity and Inclusion Colloquia 2 (Advance HE)
4 May 2023
The Studio, Birmingham
This one-day, in-person colloquium will focus on current issues relating to equality, diversity and inclusion, provide examples of good practice within the sector to address these, and will provide a safe space for discussion. The colloquium will include keynote speakers, interactive sessions and oral presentations from EDI practitioners and lecturers. This colloquium will provide practitioners with access to an open and supportive environment and a valuable peer network to share and discuss contemporary practice and initiatives. It will enable participants to develop a principled, evidence-informed approach to devising subsequent support and guidance for change in enhancing student success in HE. (See Equality Diversity and Inclusion Colloquia 1, scheduled for 2 November 2022, above.)
Mental Health and Wellbeing in HE Conference 2023 (Advance HE)
16 May 2023
Venue TBC
It is increasingly recognised how important mental health and wellbeing is for staff and student success. Universities and colleges are fast -developing 'whole institution approaches' to mental health and wellbeing, not only to improve academic outcomes and retention, but to provide a holistic and positive experience, even in the most challenging times. This one-day conference, organised by the Mental Wellbeing in Higher Education Expert Group in collaboration with Advance HE, will discuss new ideas and will aim to provide a boost in motivation and a fresh vision for all delegates. It will explore established and successful examples from the sector, share good practice, discuss the challenges when looking at mental health and wellbeing, and review ways to overcome possible difficulties.
June 2023
Sustainability Conference 2023: People, purpose and place – A strategic approach to sustainability (Advance HE)
7 June 2023
Venue TBC
New for 2023, and aimed at senior and strategic leaders within HE, this conference will focus on the sector's responsibilities in relation to the UN SDGs, civic responsibility, new sustainability initiatives and research. By way of keynote speakers, panel sessions and workshops, this conference will provide a forum for learning about evidence-based and co-produced initiatives that engender real change and offer a safe space for discussion on how to achieve your institution's sustainability targets. Universities have a critical role as models of good practice, enabling the knowledge, ideas and opportunities to solve local and global challenges and valuing all their stakeholders. This requires organisational strategy and KPIs aligned to sustainability, delivered through committed and distributed leadership.
University of Worcester Student Experience Conference 2023
12-13 June 2023
Day 1 online and Day 2 on-campus at University of Worcester
Submissions due by 17:00 on 17 March 2023
The theme for the University of Worcester Student Experience Conference 2023 is: Promoting positive student experiences. The theme will be explored through papers and case studies related to the UW Graduate Attributes:
Social responsibility: Graduates who are globally and socially responsible, culturally aware and understand the ethical impact of decisions.
Reflective and resilient lifelong learning: Graduates who are resilient and aspirational, intellectually curious and critically reflective lifelong learners.
Problem solving: Graduates who can employ analytical, creative and evaluative skills to investigate problems and propose viable solutions.
Teamwork and effective communication: Graduates who can work in teams and communicate effectively to a range of audiences.
Digital citizenship: Graduates who have high degrees of digital capability to actively and responsibly create, communicate and collaborate online.
Flexible Learning Symposium (Advance HE)
14 June 2023
The Studio, Leeds
Submissions due by 17:00 on 13 March 2023
This symposium will provide staff with a safe forum via which to exchange ideas and disseminate new approaches to flexible learning. It will offer reflections, insights and solutions to current issues pertaining to new modes of learning as well as exploring how colleagues across the sector are approaching curriculum delivery in this post-pandemic era.
9th International Conference on Higher Education Advances (HEAd'23)
19-22 June 2023
Valencia, Spain
Papers due 3 February 2023
This conference is a consolidated forum for researchers and practitioners to exchange ideas, experiences, opinions and research results relating to the preparation of students, teaching/learning methodologies and the organization of educational systems. The HEAd'23 conference will be held fully in-person on June 19-22, 2023 on the Faculty of Business Administration and Management of the Universitat Politècnica de València (UPV), which has been recently ranked as the best technical university in Spain by the Academic Ranking of World Universities (ARWU) 2022. The program committee encourages the submission of articles that communicate applied and empirical findings of interest to higher education professionals.
July 2023
AUA Annual Conference and Exhibition 2023 (Association of University Administrators)
2-4 July 2023
University of Warwick
Proposals due 9:00am, Monday 13 February 2023
Proposals are being invited for the AUA Annual Conference and Exhibition 2023, which must address this year's theme: Becoming a Higher Education Professional: Continual Reinvention in a Transforming Sector. This theme centres on the career pathways of professional staff and explores a continual self-reinvention to navigate a changing and challenging sector. This theme challenges the notion of having a fixed identity as a HE professional and instead offers that our professional self is fluid and in a perpetual state of self-overcoming – always learning, always changing, always growing. In our becoming as professionals we are an active plastic force, a powerful energy that can transform – but we need to be able to imagine, to be creative and to dare to do things differently.
Teaching and Learning Conference 2023: Teaching in the Spotlight: Shaping the future of teaching in HE (Advance HE)
4-6 July 2023
Keele University
Teaching and learning in higher education continues to be an area of constant change with staff, students and institutions still developing and evolving their models of higher education as we emerge from the pandemic. Join us at the Advance HE Teaching and Learning Conference 2023 to discuss how we can shape the future of teaching and learning in higher education across the globe and share how you are shaping your teaching, your department, your institution and your future in higher education.
6th World Conference on Research in Teaching and Education (WorldTE)
7-9 July 2023
Zurich, Switzerland
Papers due 16 June 2023
This conference is described as the premier forum for the presentation of new advances and research results in education theory and practice, and is seeking submissions related to the following topics:  Teaching, Education, Learning, e-Learning, and Language Education, including Higher Education. Other related topics will also be considered.
Equality, Diversity and Inclusion colloquium: Inclusive recruitment
12 July 2023
Virtual
Submissions due 17:00 on 31 March 2023
This one-day, virtual colloquium will focus on progress made on improving representation and creative initiates in the space of inclusive recruitment across both student and staff communities. This area can be explored from multiple angles from widening participation initiatives to diversify the undergraduate and postgraduate composition of student cohorts to HR approaches to address any barriers identified in organisational staff recruitment processes across a discipline or an entire organisation.
August 2023
European Conference on Educational Research 2023 (European Educational Research Association)
21 – 22 August 2023 – Emerging Researchers' Conference
22 – 25 August 2023 – European Conference on Educational Research
University of Glasgow, Scotland
Papers due 31 January 2023
The ECER 2023 Theme is 'The Value of Diversity in Education and Educational Research'. However, EERA welcomes contributions from the broad range of educational research. In addition to the general call, some networks would like to encourage discussion on specific thematic topics and have therefore issued a special call. However, they will remain open for all other submissions within their area. This includes 'The role of diversity in bringing about organizational transformation of higher education institutions, NW 22 Research in Higher Education': Organizational transformation is a slow process in higher education, hence knowing how to begin making changes using diversity measures is of considerable importance. Diversity is now a commonly encountered concept in European universities. It is often linked to concepts of equality and inclusion (EDI) in relation to university students, staff and other stakeholders. It is also becoming more usual to have Vice-Rectors responsible for inequality. Diversity strategies, policies and practices (whether planned or serendipitous) can help higher education institutions in Europe reinvent and transform those organizations, thereby reducing their reliance on neoliberalism and managerialism.