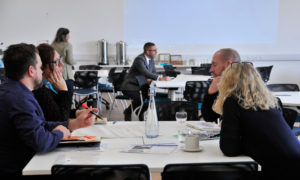 Learning and Teaching Conferences 
(Organised by conference date)
October 2023
International Student Recruitment Conference 2023: Sustaining Growth, Maintaining Quality (UUK International)
19 October 2023
Online and in person at Woburn House, 20 Tavistock Square, London
Join UUKi and IDP, in person in London or online on 19 October, as we bring together colleagues in international student recruitment from across the sector to discuss the latest challenges and opportunities. As government policy to restrict immigration impacts on international student recruitment, this conference will discuss and debate how we move forward, asking: How do we counter this rhetoric to maintain our reputation as a welcoming study destination?; How do we adapt to continue to grow sustainably?; and How do we ensure we maintain quality and focus on the international student experience? This event is exclusively for UUKi members (which includes University of Worcester) and there are options to join in person, with over 100 other colleagues from across the sector, or to participate remotely.
November 2023
Conference on Equity, Diversity and Inclusion in Postgraduate Research (UK Council for Graduate Education)
2-3 November 2023
Crowne Plaza, Sheffield
Growing the postgraduate sector has become national priority. The UKCGE Annual conference this year looks at successful strategies for managing this growth while at the same time maintaining quality in postgraduate provision. The Annual Conference is the flagship event in the UKCGE events programme. Join colleagues from across UK to reflect on the past year in both PGR and PGT education, and discuss some of the most pressing issues affecting the postgraduate sector.
The 7th International Conference on Teaching, Learning and Education (ICTLE) 
3-5 November 2023
Copenhagen, Denmark
Submissions due 13 October 2023
The conference is seeking submissions related to the following conference topics: Higher Education policy, Education Theory and Practice, Education Policy and Administration, e-Learning, Teaching, English Language Teaching, Foreign Language Teaching, Child and Family Education, and Learning. Other related topics will also be considered. The conference is keen to create a platform for academics, researchers, engineers, industrial participants and students to share their research findings with the global experts. All full paper submissions will be peer-reviewed and evaluated based on originality, technical and/or research depth, accuracy and relevance with the theme of the conference.  We invite full and developmental papers, extended abstracts as well as case study presentations in English. Please check the Author guidelines for more details. All accepted extended abstracts and papers will be published in the conference proceedings and delivered during the conference.
Staff and Educational Development Association Autumn Conference (SEDA)
9-10 November 2023
Leeds
Submissions due by noon on 27 September
Education has evolved and continuously changed over the years, but the pace of change has accelerated in recent times. The enhancement of technology has made it possible for learning and teaching to take place in person, online or through hybrid learning, as well as drawing into question the way in which written assessments are/can be used. Students who are taking their studies during a cost of living and mental health crisis, now expect their education to be offered with more choice and options to make this a personalised experience. Prior to the advent of widely available AI language models, there had been a move away from high stakes examinations towards more authentic assessment but the advances in the field of AI pose challenges to this. Our increasingly diverse student bodies need to be prepared for this world of change which will impact on all future employment roles as well as the way they engage with the wider world. This conference will enable us all to share initiatives to support these changes and continue to develop and deliver quality education.
Assessment and Feedback Symposium (Advance HE)
11 November 2023
Online
In an ever-changing world, where technology is constantly evolving, the mechanisms to assess our students' work frequently change and provide us with both new opportunities and new challenges. This symposium, now in its fifth year, will consider how we can harness technology to improve our practices, explore means to overcome barriers and collaborate with students as co-creators to ensure parity of assessment for our students. The symposium, via keynotes, oral presentations and workshops, will bring together experts in Assessment and Feedback, alongside practitioners from the sector, to share the latest ideas, initiatives and best practice.
University Vocational Awards Council National Conference: Going for Growth: Productivity, Policy and Performance in Higher and Degree Apprenticeships (UVAC)
30 November 2023
Hybrid format: ICC Birmingham and online
Workshop proposals due 31 July 2023 (Call for workshop proposals)
The theme of this year's conference is 'Going for Growth: Productivity, Policy and Performance in Higher and Degree Apprenticeship'. If you are part of a team engaged in higher and degree apprenticeships, higher technical education, professional skills, and work-based learning, then this conference is a key event that you won't want to miss. A popular hybrid event, UVAC's conference brings together a wealth of sector experts offering updates on policy and insights to practice in the delivery of higher technical education and skills training including higher and degree apprenticeships. Whether attending in person or virtually delegates can benefit from a range of informative and engaging talks, presentations, and workshops on a variety of topics concerning the very best of design and development, research and CPD. By attending as a team, you'll be able to join all the keynote speakers together, then select breakout sessions individually and trade notes later (all the content is available post event to all delegates too).
December 2023
NETworking & Innovation in Healthcare Education Conference (Advance HE)
5-7 December 2023
Hilton Hotel City Centre, Liverpool
Call for submissions (no deadline provided)
Over the past two years, the NET Conference has changed in its delivery style to remain active throughout the pandemic and adapt to the needs of delegates. We constantly seek to improve the delegate experience and trial new ideas, based upon both delegate feedback and internal evaluation of the conference. For this purpose the themes for this year's conference are:
January 2024
Students as Co-creators Symposium 2024 (Advance HE)
31 January 2024
Location TBC
CfP to be published in September 2023
The active participation of students in co-creating their learning experience can add value and insights to the student experience for staff, students and institutions, however authentic and inclusive co-creation is challenging. In this symposium we want to critically explore the role of all students as co-creators across all areas of their university experience. The symposium will be co-created with students and will feature keynote sessions and a student panel as well as oral presentations and workshops from the sector. A call for contributions will open in September, and we welcome submissions from student presenters.
February 2024
Quality Insights Conference 2024 (QAA)
22-23 February 2024
Venue TBC
Submissions due midday on 23 October 2023
Session proposals are invited in response to one of the following topics:
Impact of generative artificial intelligence (AI) on the nature of the student learning experience and the value of awards – bringing in positive influences of AI as well as authenticating assessments and promoting academic integrity.
Creative pedagogies and educational gain – considering the development of student competencies through person-centred pedagogies such as phenomenon-based learning, gamification, active learning or competency-based education.
Using evidence and data to underpin decision making about the quality of the student learning experience – including how data is used in periodic quality processes as well as the use of evidence to prioritise and evaluate specific interventions or initiatives.
Ensuring quality in collaborative partnerships – including validated or franchised provision delivered in the UK and transnational education.
Supporting successful student transitions – covering innovative approaches to pre-arrival and induction, understanding and responding to student expectations from their learning experience, and enhancing student retention and progression.
We particularly welcome proposals from students or those which include the student voice.
Artificial Intelligence Symposium (Advance HE)
27 February 2024
Location TBC
The rapid advancement in technology brings both opportunities and challenges to the higher education sector, none the least those tools that use artificial intelligence to generate content. As ChatGPT and similar online AI tools grow in popularity, how can HE assessors validate the authenticity of students' work and ensure parity of grading and awards? How can we use AI as a positive means of identifying plagiarism? How can AI be used to support the analysis of research datasets? By way of a keynote, case studies and peer-led presentations, this symposium aims to answer these questions and explore the impact of AI, both positive and negative on Teaching and Learning in HE.
March 2024
Equality, Diversity and Inclusion Conference 2024 (Advance HE)
6-7 March 2024
Location TBC
This two-day conference will focus on best practice in addressing issues of equality, diversity and inclusion in HE. Includes keynotes from senior leaders and EDI experts. The conference offers an opportunity to think deeply and creatively about how we can build our learning on equity, diversity and inclusion to draw on the widest range of thinking and practice, including marginalised voices, new ways of learning, and learning from outside of higher education; a chance to share what we are doing to disrupt traditional understanding of scholarship and scholars/expertise and experts, and to challenge structures and processes that limit career opportunities; and a platform to share new ideas that will stimulate our thinking about equity, diversity and inclusion – inviting people to share our insights, as well as learning from those who do likewise. The conference will include an optional evening dinner and entertainment on the evening of the 6 March. Delegates can attend the full conference or choose the one day that resonates most with their work, experiences or requirements.
Advanced Research in Education, Teaching and Learning 2024 (ARETL)
14-16 March 2024
Berlin, Germany
Submissions due 23 February 2024
The 8th International Conference on Advanced Research in Education, Teaching and Learning (ARETL) is for academics, researchers, scholars, graduate and postgraduate students, educators, and other members of academia. It features insightful presentations by academics from around the world. Each presentation, whether it's conducted on-site, virtually, or as a poster – provides unique insights into challenges on a local, national, or regional level. This enables the attendees to learn best practices and innovative application strategies that they can then benefit from in their field of work. Themes include lifelong education, education and management, and Higher Education policy.
April 2024
Student Engagement Conference 2024 (Advance HE)
18 April 2024
Location TBC
CfP to be published in October 2023
Now in its fourth year, this conference will build on lessons learned and the latest thinking to delve further into what we learn from the data, from students, from staff, from other countries, and other types of institution to improve the student experience. The in-person conference will allow valuable networking and informal sharing alongside the formal conference elements to build together our understanding of student engagement. Featuring a mix of expert keynotes and panel sessions, the conference will also include interactive workshops from the sector sharing best practice initiatives. A call for workshop contributions will open in October.
Employability Symposium 2024 (Advance HE)
25 April 2024
Location TBC
CfP to be published in November 2023
In the current climate of increasing cost of living, rising unemployment and planned changes to student loans, we need to ensure students have the skills, attributes and knowledge required to gain employment after graduation. This symposium will bring together experts in the field of Employability and Entrepreneurship to discuss how we can embed attributes required by employers into teaching and learning curricula and learn about the latest initiatives being undertaken at higher education institutions. By way of oral presentations and workshops, delegates will be able to learn, discuss and share latest practices in embedding employability among a network of peers. A call for contributions will open in November.
May 2024
Student Retention and Success Symposium (Advance HE)
14 May 2024
Location TBC
CfP to be published (date not yet confirmed)
This symposium will provide an open and supportive environment within which to share and discuss contemporary practice and initiatives in student retention and success; providing evidence-informed examples and ideas for university staff and students to address the challenges of attrition, retention and student success in higher education. By way of a call for papers, we will invite participants to consider how practices can be enhanced to reduce attrition, assist with transition stages and ensure students achieve their objectives. The event will include a keynote speaker alongside participant-led workshops and presentations. The link to the conference webpage will be shared when available.
Mental Wellbeing in HE Conference 2024 (Advance HE)
15 May 2024
Location TBC
CfP to be published in November 2023
It is increasingly recognised how important mental health and wellbeing is for staff and student success. Universities and colleges are fast-developing new approaches to mental health and wellbeing, not only to improve academic outcomes and retention, but to provide a holistic and positive experience, even in the most challenging times. At this one-day conference, organised in association with the Mental Wellbeing in Higher Education Expert Group, we will hear from expert keynotes and panel speakers, discuss new ideas, learn from successful sector-wide initiatives and aim to provide a boost in motivation and a fresh vision for all delegates. A call for contributions will open in November.
June 2024
Sustainability Conference 2024 (Advance HE)
Location TBC
12 June 2024
Aimed at senior and strategic leaders within HE, this conference will focus on the sector's responsibilities in relation to the UN SDGs, civic responsibility, new sustainability initiatives and research. By way of keynote speakers, panel sessions and workshops, this conference will provide a forum for learning about evidence-based and co-produced initiatives that engender real change, and offer a safe space for discussion on how to achieve your institution's sustainability targets.
UW Learning and Teaching Conference 2024 (University of Worcester)
University of Worcester
17-18 June 2024
Details including the theme, keynote speaker and CfP will be made available on the LTQE webpages in due course. Please continue to check for updates. Details of the 2023 Conference (retitled as the Student Experience Conference) can be found on this webpage.
July 2024
Teaching and Learning Conference 2024 (Advance HE)
2-4 July 2024
Location TBC
Our flagship three-day conference, attracting HE practitioners involved in teaching and learning from the UK and overseas, will provide a forum for delegates to share latest research, project outcomes and initiatives that improve teaching and learning practice. The conference will include keynotes and panel sessions, plus a vast range of peer-led oral presentations, ignite sessions, roundtable sessions and interactive workshops. Teaching and learning in higher education continues to be an area of constant change as we continuously strive to improve the learning and experiences of our students in an ever-changing world. Join us at the Advance HE Teaching and Learning Conference 2024 to discuss how we can work together to overcome challenges, learn from the work of others, and look to the future of teaching and learning in higher education across the globe.