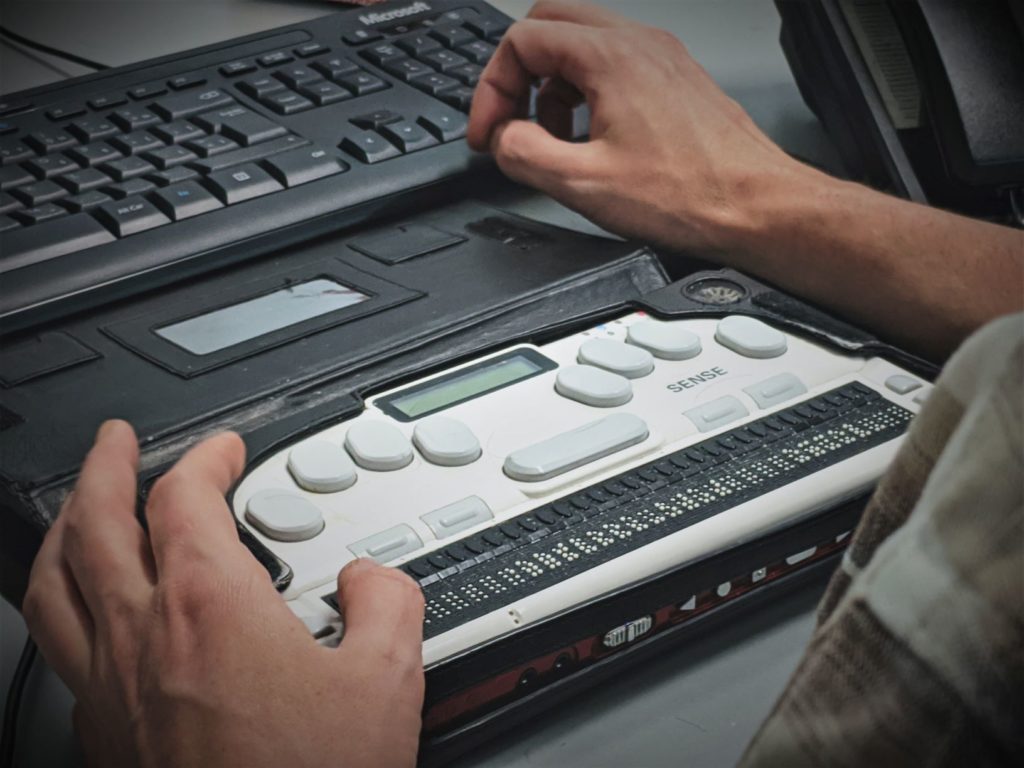 With the rapid transition that has been necessary due to the Covid-19 pandemic, a large number of colleagues are looking for ideas, alternatives and suggestions for developing their learning and teaching approaches online. This series of blog posts are aimed at supporting staff looking for ways to incorporate more blended or online learning teaching whether for the short term or long term.
What do we mean by accessibility?
Over this last year, there's been a focus on digital accessibility with the introduction of the new Public Sector web accessibility regulations. This requires all institutions to look at how they make their websites accessible for all users including staff and students with accessibility needs. This includes those with specific learning needs but also includes people who may have a temporary accessibility need or a situational one. That's why taking an inclusive approach from the start allows for a range of circumstances where an individual may need to a website or the content on the website to be accessible. Some of the most common accessibility needs with digital accessibility relate to information that can be understood by someone using a screen reader to read out text on screen or needing captions on videos.
What are the benefits of making websites and content accessible?
With the rapid move online, everyone has been more reliant on digital systems and technologies as well as online learning materials and information. Individuals who may have had access to face to face support may be in positions where that support is less easy to access. Other individuals might find their personal situation means that they can use some of the accessibility features to help them. For example, a student may benefit from being able to listen to an audio version of a document while travelling or a member of staff might be in a situation where there is a lot of background noise and having videos captioned helps them understand what is being said. By focusing on digital accessibility we can make a more inclusive learning and teaching experience for anyone who might need support even if it's for a short, temporary period.
How can I move my accessible practice online?
For most staff, this will be about making sure that Blackboard courses are accessible and that learning resources that students will be using are as accessible as possible. Sometimes, a learning tool is not accessible and where this is the case, this should be highlighted to students and an alternative approach for students who require it should be included. Microsoft has an accessibility checker that is available in its main tools such as Word etc. and this can highlight where content needs to be accessible. We have also introduced a new tool call Blackboard Ally. This works in several ways including providing feedback on the accessibility of your course content. The university has produced an Inclusion toolkit which has a range of advice on inclusive practice including a section on Designing inclusive blended and online learning environments. There are a range of matters to consider when thinking about digital accessibility online but here are some questions to consider when reviewing your digital learning and teaching in relation to digital accessibility:
Is navigating your course clear and easy for people to understand?
Can text be selected and read out by people with vision difficulties or specific learning difficulties?
How are you using images, colour and media within your learning and teaching? Are they accessible?
Are tables for data clear and navigable by screen readers who read a table left to right, top to bottom?
Where do I begin?
If you've not already had a chance to use it, have a look at the Inclusive toolkit which can help with a range of good practice in designing inclusive, accessible digital learning and teaching.
Ensure your Blackboard Course has accessible navigation– consult with colleagues delivering other modules that are part of your course and come to agreement about the core elements of your Blackboard courses that you all include in the same way. This help students avoid trying to learn different layouts and makes accessing your course easier for all students.
Check content is accessible as you are creating it – Make sure you're familiar with how to use the Accessibility Checker that comes with Office applications such as Word, Powerpoint etc. The Accessibility Checker is available for both Office365 (online) and for the desktop applications. Further information can be found on IT staff's web pages.
Check how accessible your course is – Use Blackboard Ally to help understand how to improve the accessibility of your course and find out more about how it can also support your students.
Ensure multimedia is captioned –  New video content will need to be captioned. Both MS Stream (part of Office 365) and YouTube can provide captions. Panopto (our new video system which is being implemented currently) can also provide captions. More information about this option will be made available soon.
Be clear if certain content can't be made accessible – If you are using specific content or learning and teaching tools that are not yet accessible for student please make them aware of what alternatives you are providing. Alternatively, please contact IT Services who may be able to advise if an alternative, accessible tool is available.
Where can I go next?
There's a range of information available more widely regarding digital accessibility. LexDis has a range of support materials that can help with digital accessibility. You can also find a range of posts on this blog about various aspects of digital accessibility. Alternatively, you can access LinkedIn Learning at University of Worcester and check out their various courses on accessibility. Or if the chance to earn some digital badges interests you, have a look at the Microsoft Educator Centre which has lots of short online courses on accessibility and Office 365 tools