Going Online in a Pandemic: Staff and Student Voices at the Heart of Inclusive Teaching
Jennifer Hatley, Course Leader Education Studies, School of Education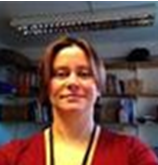 I am the course leader for Education Studies and like most courses at the University, myself and my team found ourselves moving to online teaching quickly in response to the Covid-19 pandemic. We are in a unique position. We were not just teaching any subject; we were teaching Education.
Pedagogy and andragogy are what we do all day, every day, so we knew that we couldn't simply put resources online and expect learning to happen as it does when face-to-face. Nonetheless, with the need to act quickly, that is in effect what we had to do. This constituted 'emergency remote teaching' (Hodges et al, 2020) arguably satisfactory for a limited time, but not for long.
As the weeks went on, I led the team through an evolution in our practice. The team shared advice from the HE sector that they had found (Hodges et al 2020, Stanford 2020, Veletsianos and Kimmons 2020) and we gathered feedback from our students about their experience of learning online. Students shared the impact on their physical and mental health, the demands of home schooling, sharing devices and workspace with family and their experiences with unreliable, often rural, internet. Staff shared similar experiences. I led consultation meetings for my department where we explored this feedback, pooled our expertise, and raised any concerns. We also explored how our online spaces could be designed inclusively. All of this informed our values-based provision of online learning which I then wrote into a 'Guide to Practice' (V1). To ensure our practice was research informed, I additionally sourced academic papers (De Jong et al 2018, Filius et al 2019, Hew 2016, Mayer 2017, McLaughlin and Yan 2017), and the university's own guidance (A5, V3, V4). I structured my guide into three sections to support all areas of our practice:
Online environment and delivery (A1, A2, A4, K2, K3)
Camera etiquette, tutor 'presence' and online engagement (V2, K4)
Online recordings and specific tools (K2, K4)
This provided and solid rationale and ensured our provision exemplifies excellent and innovative practice (A1, A4, V3, V4)
The impact of my guide, written by me but informed by colleagues and students, spread beyond Education Studies. It became department guidance for our undergraduate courses, and it was further taken up by the School as a whole. I led training for another department who were keen to create a sense of community online. It also became a recommended resource for the Head of Digital Teaching and Learning's online learning course for all staff and complemented the values and approach taken there. It also became required reading for the academic librarians across subject areas, university wide.
Through leading this, I will teach, support and lead with the increased confidence that comes from being research-informed and from listening to the voices of those affected. Having a basis in student and staff experiences is a real strength of the guide. It means that as we move forwards, we are flexible enough and research-informed enough to respond with excellence, no matter what is asked of us in these challenging times.
References
De Jong et al (2018) The role of the e-tutor in synchronous online problem-based learning: A study in a Master Public Health Programme, British Journal of Educational Technology, Vol 49 No 3 385-397
Filius et al (2019) Audio peer feedback to promote deep learning in online education, Journal of Computer Assisted Learning, Wiley, 35: 607 – 619
Hew F K (2016) Promoting engagement in online courses: What strategies can we learn from three highly rated MOOCS, British Journal of Educational Technology Vol 47 No 2 p320 – 341 doi: 10.1111/bjet.12235
Hodges et al (2020) The Difference Between Emergency Remote Teaching and Online Learning, Educase, https://er.educause.edu/articles/2020/3/the-difference-between-emergency-remote-teaching-and-online-learning 
Mayer RE (2017) Using multimedia for e-learning, Journal of Computer Assisted Learning, Wiley, 33, 403 – 423
McLaughlin and Yan (2017) Diverse delivery methods and strong psychological benefits: A review of online formative assessment, Journal of Computer Assisted Learning, Wiley, 33, 562 – 574
Salmon G (2013) E-tivities – an introduction https://www.gillysalmon.com/e-tivities.html 
Stanford D (2020) Video Conferencing Alternatives: How Low-Bandwidth Teaching Will Save Us All https://www.iddblog.org/videoconferencing-alternatives-how-low-bandwidth-teaching-will-save-us-all/
Veletsianos and Kimmons (2020) What (Some) Students Are Saying About the Switch to Remote Teaching and Learning, Educase. https://er.educase.edu/blogs/2020/4/what-some-students-are-saying-about-the-switch-to-remote-teaching-and-learning