The PGCE Secondary Education Magazine Commonwealth Edition
Rebecca Davidge, Simon Huson, Elena Lengthorn and Rachael Moore – School of Education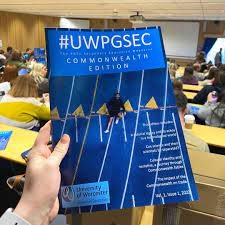 Our Secondary PGCE team developed and delivered a series of teacher educator workshops on decolonising, diversifying, and democratising our subject curriculums in light of the murder of George Floyd in the summer of 2020 and the local Birmingham Commonwealth Games in 2022. A further catalyst for this project was the exploration of the inspirational text Empireland: How Imperialism Has Shaped Modern Britain by Satnam Sanghera (Sanghera, 2021). Reading of Empireland enabled us, as a group of university tutors, to discuss our preconceptions of the British Empire. The book took us on a learning journey which included a clearer understanding of the past, present and possible future impacts of Empire, as well as its potential evolution and legacy in the form of the Commonwealth, an organisation that spans 54 nations, with an estimated population of 2.5 billion people.
Here are some of the common themes that emerged from the team's discussions:
that the legacy of Empire is all encompassing, relating to every school subject, not limited to history and citizenship,
a greater appreciation of the representations portrayed in the images that we see and use in education in the UK,
questions about the approach we should take in relation to appropriate language when discussing these themes,
a new understanding of the open and welcome invitation that was given to Commonwealth citizens to migrate to the UK juxtaposed by the challenges they faced.
We published and shared a wealth of articles and resources with our partnership schools to support their efforts to decolonise and diversify their curriculums. It was the culmination of a collaboration between the University of Worcester Secondary PGCE tutors, trainees, and subject mentors. The articles explored subject reflections on the Commonwealth, the legacy of the British Empire, decolonisation, diversification, democratisation of the classroom and anti-racism. The publication also included links to resources for use in the classroom. Educators are agents of social change and at a time of low confidence in communications and dialogue, perhaps due to a fear of difficult conversations, we needed to consider our role, as highlighted by the UK Government's recent guidance for teachers on impartiality, to develop 'active citizens who are prepared for life in modern Britain' (DfE, 2022, p1).
PGCE trainees were involved in the development and delivery of innovative and contemporary lessons, with some also further involved in writing their own contributions to the magazine. Additionally, there were contributions to the artwork and design, from the creation of subject based Commonwealth logos to photography of the delivery of Commonwealth Day lessons and related local imagery. The project also had impact of engaging our partnership mentors with written contributions to the magazine.
The full impact of this project was that 170 trainees shared resources with mentors in over 70 partnership schools and in June 2022 the project and presented at the UW Learning and Teaching conference with positive comments related to our work.
Our reflections have continued over many months and stimulated rich discussions on the history of the Empire, on white privilege, the role of allyship, how we are seeing the world differently and our responsibilities as teacher educators to support our trainees and in-service colleagues in exploring these topics. We would like to encourage everyone, within and beyond formal education, to read or listen to Sanghera's Empireland and reflect on their own education.
A copy of the publication can be found here: https://www.worcester.ac.uk/documents/UWPGSEC-Commonwealth-Edition.pdf
References
Department for Education (2022) Guidance: Political impartiality in Schools. Available at: https://www.gov.uk/government/publications/political-impartiality-in-schools/political-impartiality-in- schools (Accessed: 15 March 2022)
Sanghera, S. (2021). Empireland: How Imperialism Has Shaped Modern Britain. London: Viking.