Innovative Development of a Placement-Based Module to Enhance the Authentic Learner Experience and Student Satisfaction
By Karen Williams, Senior Lecturer (Teaching) in Physical Education; School of Sport and Exercise Science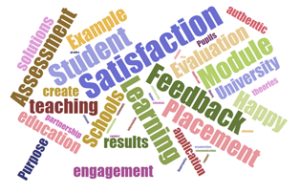 This case study highlights examples of teaching excellence where the innovative development of a level 6, school placement module has led to exceptional outcomes and enhanced student satisfaction. The study linked clearly to the UKPSF (2011) as it focuses on designing and planning learning activities and/or programmes of study (A1) and teaching and/or supporting learning (A2). The module developments have related to K2, utilising appropriate methods for teaching, learning and assessing in the subject area at the level of the academic programme. It also reflects professional values, specifically V2 for promoting participation in Higher Education and equality of opportunity for learners.
After analysing module evaluations, an issue effecting student satisfaction was identified as the sourcing and organisation of school placements whilst attending lectures, seminars and completing assessments (end of module evaluations 2017/18). To combat this, a significant change was put in place which involved the allocation of placements by the module leader, rather than students having to initiate contact with schools and finding a placement for themselves. To support this, an innovative concept of hosting Partnership Events at the University was set up to create a network of support from schools across the entire country. This resulted in an ease of finding and allocating the students placements; improved communication between schools and the University; in addition to new and enhanced relationships and collaboration with a multitude of placement providers. Additionally, students received 2 hours of lecture contact time per week, based on the university student-led timetable approach, and this enabled time to complete placements within the student's weekly schedule. Although there were concerns that students might feel short-changed in this current consumer style climate, we were delighted with comments from students on the level of support they received throughout the module. "Staff extremely helpful…good guidance…one of the best modules!", "help with placement throughout was very good and support always available" (end of module evaluations 2018/19)
In addition there were modifications to the assessments, this included conducting two lesson observations which informed an early assignment and had relevance to the requirements of teaching practice. Furthermore, the opportunity to plan, teach, and evaluate a range of solo lessons in the second semester was offered, with reflection on Teacher Standards embedded in the design to align learning with Initial Teacher Education requirements. The lesson observations in the school environment offered a way to integrate further authentic learning experiences, which is a theme that is prevalent across the entire Physical Education degree pathway.
High levels of satisfaction resulted from the embedded elements of authentic learning, these were reflected in module evaluation feedback, degree outcomes and also employability… "it really helped strengthen my knowledge about students and how to teach, which strengthened my PGCE application", "the placement element was useful for employability and personal development", "relevant to what I wanted from my degree", "the placement set me up for future employment in teaching" (end of module evaluation data 2018/19), (V2). The result of these changes is a significant increase in student's satisfaction and is evident in the attainment statistics for this module where the number of students with a D grade or lower dropped significantly from 22% to 9%.
The impact on my personal professional development has been an increased commitment to embedding authentic experiences for students in both teaching experiences and assessment. I have also recognised the impact of thoughtful consideration on student feedback and the benefits that an effective response through adaptation of for example; teaching methods or assessment can have. I have also had opportunity to disseminate these initiatives more widely to the School and University as a whole, sharing good practice.
References
The Higher Education Academy (2011) The UK Professional Standards Framework for supporting learning in higher education. [Online] Available from: https:heacademy.ac.uk/ukpsf [Accessed 6 March 2019]
University of Worcester (2018) Assessment Policy. Available at:
https://www.worc.ac.uk/aqu/documents/AssessmentPolicy.pdf (Accessed 4 May 2018)