Embedding Real World Learning Through Inspirational Guest Speakers
Team Teaching Award – Dr Kay Emblen-Perry, Senior Lecturer and PRME Coordinator; Dr Paulo Mora-Avila, Lecturer and School Liaison Coordinator; Rachel Cooper, Lecturer and Accounting and Finance Course Leader; Worcester Business School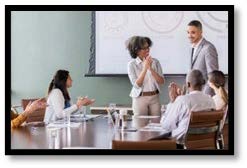 In the Responsible Business L5 module, we include weekly guest speakers [A1]. This approach is inspirational to students, module tutors and the guest speakers themselves, as we will explain. The use of guest speakers each week is unique within Worcester Business School (WBS) and is innovative, as it is not seen elsewhere within education for sustainability. Our practice frames our pedagogical approach to the module which involves students exploring a live case study, and in 2020/21, this was the University of Worcester (UW); weekly guest speakers allow the live case study to be brought into the classroom. This is integral to the learning, teaching and assessment for this module [A1]. Through our approach, we provide high-quality learning opportunities that are fundamental to all students' successful outcomes [A2, V1], the delivery of the UW L&T Strategy [K6], and achievement of Graduate Attributes 1-5 [V4].
Guest speakers are invited from UW business support functions such as Estates, Procurement, H.R., etc. We also include the wider student voice through Students' Union speakers. [A1, K3]. This offers the opportunity for students to explore the live case study from business and operational perspectives [A1]. Student feedback highlights that guest speakers are highly relevant to their learning, promote engagement and assist with enhanced module outcomes [V4]. Students recognise that they gain knowledge through different experiences and perspectives shared by expert practitioners in the classroom [K2]. Satisfaction scores for 2020/21 for learning and teaching were 100% [K5].
The use of weekly guest speakers has a significant impact on students, staff and the guest speakers themselves. With students, we see positive engagement through increased participation and attendance [V2]. We also recognise students' interest and confidence is promoted through this approach [K3]. Guest speakers' activities, such as the exploration of the mobile phone supply chain, are highly relevant and students relate to these well [K1]. This leads to the development of students' self-reliance and self-efficacy, encourages attendance, and has resulted in enhanced outcomes (in 2020/21, average grades increased from C+ to B- and attendance increased by 17% to 79%) [K5].
Guest speakers also recognise that participating in lectures is a positive experience and valuable opportunity [K5]. They tell us that hearing the student voice has enabled them to gain new perspectives on operational activities and make improvement interventions which would not otherwise have been possible. As a teaching team, we have gained insight into the real context of the guest speakers, and we have gained an appreciation of the benefit to student outcomes [V3].
On our module, we are personally and professionally inspired by our guest speakers and their impact on students' learning; therefore, we plan to share our pedagogic approach with the wider academic and business communities [A5, V4]. Through this, we will support UW's goal of knowledge transfer and encourage others to contribute to the University's golden triangle of education: well-motivated students, inspirational educators, and expert professional mentors who collaborate to deliver excellent learning experiences and outcomes [A1].