Course design and development including enhanced use of Pebble Pad and the Pebble Pocket App for undergraduate level 4-6 teaching
Glyn Harding, Michelle Morgan, Craig Williams and David Mycock – School of Sport and Exercise Science
One of the assessments in SPRT 2034 ethics requires students to collaborate with Drama and Law staff and students to participate in a real-life innovation cross department experience court case to analyse the 'ethical implications' of applied practice.
Through this approach, we underpin our delivery with the School of Sport and Exercise Science core teaching values (see Figure 1) to ensure high-quality teaching and the promotion of inclusive practice. Furthermore, synchronous online learning (developed through Covid 19) has enabled students and lecturers to interact live, retaining the student-teacher interactions and alleviating geographical and time management issues (Erickson et al., 2020).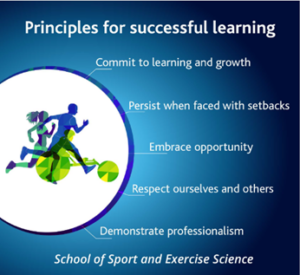 Figure 1: The School of Sport and Exercise Science core teaching values
Whilst we adopted a structuralist approach throughout the module, the available tools within Blackboard and Pebble Pad allowed us to utilise a range of learning and teaching practices within individual lectures to generate critical discussions and check for understanding through creating challenges and competitions (A3, A4). Students were sometimes apprehensive of asking questions in the early stages, but as the module developed, students gained confidence following individual feedback provided at agreed stages via the Pebble Pad software.
As a staff team, we learnt that, in these circumstances, it was important not to be quick to provide 'set answers' but to allow time for students to reflect (K2, V1). Throughout the learning programme we either re-scheduled practical session questions or used a blackboard regularly to post articles and items from quality newspapers to stimulate discussions in lectures about current sporting scenarios.
To develop the ethical aspect of the course, links were made with the School of Arts and Law School. This collaboration (A4 and V4) resulted in 3 trials in role play delivered in the court room at the Jenny Lind Building with a Judge and BSc students sitting on the jury. As a small teaching team, we have learned the importance of collaboration and working smarter, utilising the skill set of individuals flexibly within the team in contributing to an overall collective goal.
We also made use of the Pebble Pocket App across modules (K4), whereby students can chat, share files, capture live coaching footage, record work placed on whiteboards, and video call privately in a separate space. Within sessions, we used these following the theoretical introductions. Students could share their understanding away from the lecturers and discuss how applicable the theories were to their experiences or views.
Whilst at times students were not able to interact live due to Covid 19 and differing placement commitments, they could watch back sessions due to the recording function. Students perceived this as extremely valuable and advantageous to a traditional taught lecture (A4). This ensured they understood all the workflows required to access the online classrooms and its features during interactive lectures, helping to minimise the barriers to learning when the teaching moved online (K3, V3).
Students perceived this structure as key in 'enabling the application of learning content to the applied setting' (BSc SCS MERF) and highlighted the online delivery helped them to learn important content. Furthermore, module evaluations achieved 100 per cent satisfaction regarding the teaching methods used and the quality of the teaching methods) (K4).
Our presentation of this work at the University of Worcester Learning and Teaching Conference 2022 was received with positive feedback for our excellent contribution showing the journey of our students.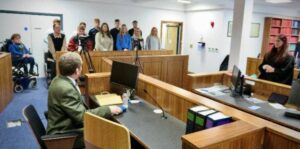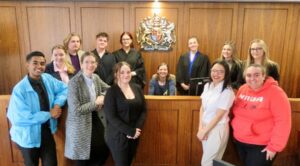 REFERENCES
Erickson, S., Neilson, C., O'Halloran, R., Bruce, C. and McLaughlin, E. (2020) '"I was quite surprised it worked so well": Student and facilitator perspectives of synchronous online Problem Based Learning', Innovations in Education and Teaching International, pp. 1-12. doi: 10.1080/14703297.2020.1752281.