Vignette of Practice: Out of sight, out of mind? Academic Liaison Librarians Online and Beyond
Sarah Purcell, Kathryn Devine, Shona Raymond, Alison Taylor, Jennifer Dumbelton, Ros Sykes, Jo Dunn, Beth Connors and Andy Searle – Library Services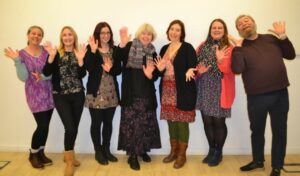 Figure 1: L to R: Jo Dunn, Shona Raymond, Sarah Purcell, Ros Sykes, Allie Taylor,
Kathryn Devine, Andy Searle, [Beth Connors].
The Academic Liaison Librarian Team advises, teaches, and supports students, researchers and academic colleagues at the University of Worcester and across our partnerships (V1, V2). We are a professionally qualified team (A5) who support literature searching and academic referencing, and promote the effective use of physical and online library services, integrated at both course and module level. Our team ethos of sharing knowledge, undertaking professional development and providing individualised support is central in advocating for a holistic and proactive approach to course-embedded input for students (V3, A5).
As the pandemic took hold in early 2020, 'out of sight, out of mind' became a possibility as learning, teaching and working shifted online, with the library inaccessible to many. We needed to build and promote a resilient model of online support (A4, K2, K4). In this case study we reflect upon the impactful and innovative online support for staff and students developed by the team (V3, V4, A4).
Prior to March 2020, the Academic Liaison Librarian (ALL) team supported learners and researchers mainly through in-person teaching and appointments. We contributed towards a desk-based enquiries service in The Hive. The chart below shows how the nature of enquiry and appointment support shifted from desk-based to online over a three-year period.
Figure 2: Nature of enquiry and appointment support over a three-year period
As part of our shift to online, the team developed a series of bookable tutorials, or 'Discovery Sessions'. These are not intended to replace our course-related input and have prompted requests for integrated module teaching (K3). Topics include referencing, ebooks and accessibility, systematic review and reference management tools. We have since expanded our range to include induction talks, Hive tours, academic journals and advanced searching. To complement these workshops, asynchronous support is available through our YouTube channel. Playlists include new student essentials, Library Search, journals and ebooks, and resource lists for staff (K4). We also maintain a repository of FAQs which answer common questions on a huge range of topics.
The team contribute to and promote a series of collaboratively-developed resource lists which reflect the body of knowledge and learning within the library team, sharing tools for online reading, writing, time management and wellbeing (A2, V1, V2). These appear on several module-specific resource lists, offering a set of resources which supports students' wellbeing and skills development as they progress towards graduation and employment.
The positive feedback we receive testifies to our professionalism and collaboration in responding effectively to each of our students and colleagues. The team has received thirteen student choice nominations between 2018 and 2022, with feedback for the most recent nominations stating: 'they really have the students at the heart of what they do'.
Today we offer live chat, email support, bookable appointments, asynchronous resources via YouTube and FAQs and our online discovery sessions (A4). Each member of the team continues to contribute to all of these, while also teaching students within their courses. Between 2020 and 2022, we delivered or facilitated on average 326 sessions per year, reaching almost 8800 students. Our challenge now is to strike a sustainable and realistic balance between in-person and online learning and teaching support (V1, V4, K6).